Children don't know that they can't see.
"If a little kid has a toothache or his or her arm hurts, they'll tell you," said Mark Scaramuzzi, program manager of Vision To Learn, which provides free eye exams and glasses to children.
The organization's mobile vision clinic came Thursday to the Croton United Methodist Church, a summer food feeding site.
"If a child's vision is affected, they don't know that they might be able to see better. That is where we we come in."
Scaramuzzi noted that poor vision might be the root of poor performance in school or a diagnosis of ADHD and other behavioral problems.
"When a child can see, that's a life-changing event," he said
Vision to Learn is a nonprofit organization that provides free eye examinations and 225,000 pairs of free glasses to children nationwide. Scaramuzzi said more than 1,800 eye exams are provided in the Pittsburgh region.
Children age 18 and younger are eligible for free eye exams and glasses if necessary. The glasses, Scaramuzzi said, will arrive in three to four weeks.
"We'll be back at that time with glasses with the right prescriptions to present them to the children and make adjustments to make sure the glasses fit right," he said. "We want the kids to want to wear their glasses."
He said the mobile clinic offers 120 pairs of glasses frames in various styles, sizes and colors for the children, and often their mothers, to choose from.
The glasses and exams are offered at no cost. If they are broken or lost, they are replaced — also at no cost to the family.
"We want to be sure that the children have what they need to be successful," Scaramuzzi said, adding, "It's wonderful to see the expressions on the faces of the children when they get their glasses and can see clearly for the first time."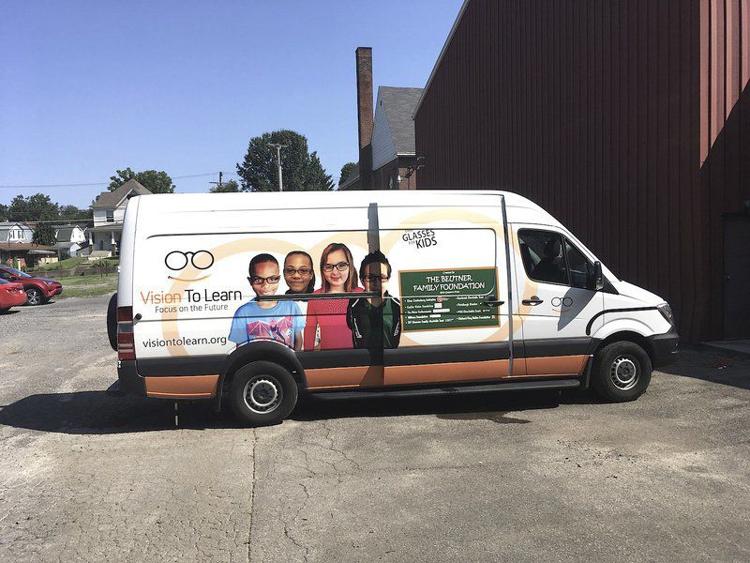 The mobile vision clinic was invited to town by Sally Vernon, who with Anna Craig serve as co-coordinators of the Summer Food Program site at the church. The program has operated at the church for the past four or five years, Vernon said.
She said she learned of this and other available services through Tabatha Reefer, child nutrition outreach coordinator of the Greater Pittsburgh Food Bank, which provides the food served.
"I thought this was a service that could be useful here," Vernon said, adding that Craig had been a vision teacher at the Midwestern Intermediate Unit IV and secured many pairs of free glasses for students over the years.
"We had more than 20 children, none older than 5 or 6, signed up for eye exams before we came," Scaramuzzi said. "We expect more will come while we're here."
The program is available to children age 18 and younger.
Generally, he said, examinations take 15 to 20 minutes. Some take longer if the patient is a preschooler.
The examinations use the latest apparatus and are "non-dilating experiences" for the children. "We find that 90 percent of the time we can make the proper diagnosis and get the proper prescription without dilating a child's pupil," he said.
Free lunches are served at Croton United Methodist Church on Tuesdays and Thursdays from 11:30 a.m. to 12:30 p.m. 
"We do more than eat," she said. "We also play games and do crafts." She added that a local day care also comes to eat on days lunch is served.
Vernon said 15 to 20 children are generally served. Vernon also operates an afterschool program — King's Kids — at the church from 4 to 5:30 p.m. during the school year.
The Vision To Learn mobile clinic is staffed by three certified doctors, including Dr. Aaron Harsch who visited New Castle on Thursday.
During the school year the van generally visits Pittsburgh public schools and surrounding communities including Duquesne and Clairton. In the summers, Scaramuzzi said, it can go to more rural areas including camps and summer food sites "to make opportunities available to children who usually it would not be possible for us to serve," he said.