Pay by mobile phone parking continues to bide its time in New Castle.
Introduced in 2015, the phone app offered by Passport Parking Inc., of Charlotte, North Carolina, can be used on most of the city's 120-plus physical parking meters — or over 230 parking spots. They offer convenience or create confusion — depending on the audience. 
"The mobile pay option is a convenience to those using the app," said Maureen Ambrosia, the city's parking supervisor. "By adding funds electronically, there is no interruption in the business you are conducting. The app eliminates the need to feed the meters continuously."
Yet, the signage on the meters promoting the app has caused problems for a segment of Butz Flowers customers.
"We do have some elderly people come in and say 'I see there's a sign that says you can pay by your phone. I put a quarter in. Am I OK?' observed Ken Kauffman, co-owner of the East Washington Street flower shop.
"They're not sure (how to work the meters). That's their concern. 'I don't have a phone' or 'I don't know if I can do this on my phone.'"
His instructions — "You put a quarter in. You're OK."
The app is catching on. This year is on pace to bring in the highest revenue yet.
After a slow start in its inaugural year ($95.50 in gross revenue), the app generated $1,727.55 (2016), $1,207.24 (2017) and $1,552.07 (2018). By the end of April, almost 700 transactions accounted for $1,029.44. Mobile pay represented 3 to 5 percent of all parking meter gross revenue from 2016 to 2018. It's hovering near 10 percent this year.
"Technology is a good thing and always should be utilized," Councilman Tom Smith said. "I do think it does have a benefit, but I suspect that our mobile meters haven't been marketed properly to the public."
Passport Parking does not charge the city for its services. From 2015 through April, customers have paid nearly $950 in service fees.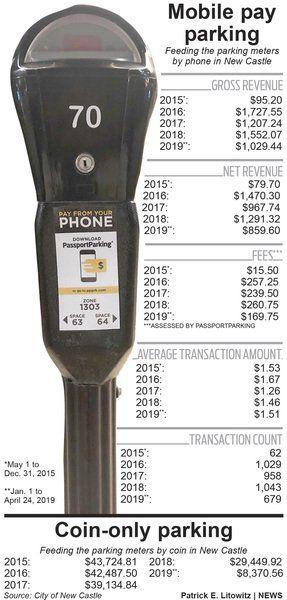 "Whether a person uses coins or the app to fund the meters comes down to personal preference," Ambrosia said.  "Having both options benefits anyone visiting the downtown area."
Council President William Panella is not impressed with the mobile app.
"I don't think they really serve a purpose," he said. "Whatever they get off top, we get less money. I just never had any confidence in them.
"I've never seen them anyplace else but here but maybe they are."
Overall, the city's coin-only parking revenue is witnessing a significant drop — from $43,724.81 in 2015 to $29,449.92 in 2018. This year is on pace for over $25,000 in coin collections.
"Boy, my initial reaction is that it doesn't appear that downtown (New Castle) is growing whatsoever if the parking meter revenue is any indicator," Smith said. "We really need an Economic Development director more than ever.
"I would also like to see what the other expenditures are associated with parking — (for example) staffing, maintenance, et cetera."
Smith is calling for "detailed discussions on the future of parking meters and whether or not they are counter-productive to attracting people and businesses to the downtown area."
Another thing to review, Smith said, is whether parking meters generate revenue or an hurt economic development.
Kauffman prefers that they go away.
"Get rid of the meters," he said. "Ellwood doesn't have them. Grove City doesn't have them."
But if they have to stay, he has this advice.
"Actually if you press the button, you get a few extra minutes."