U.S. Marine Corps Major Eric Burkett quoted the 23rd Psalm as a passage that touched him one day in church "and hit me like a throat punch."
It was that inspiration that prompted him to name his new home "Still Water," as a haven where his fellow Marines are always welcome to take shelter on the banks of the Neshannock Creek.
He remembers in his youth, fishing in the stream and counting the deer on the hillsides of his family's new Neshannock Township homestead, never dreaming he'd be back there someday for good.
He said Thursday, "It really is a blessing to be here."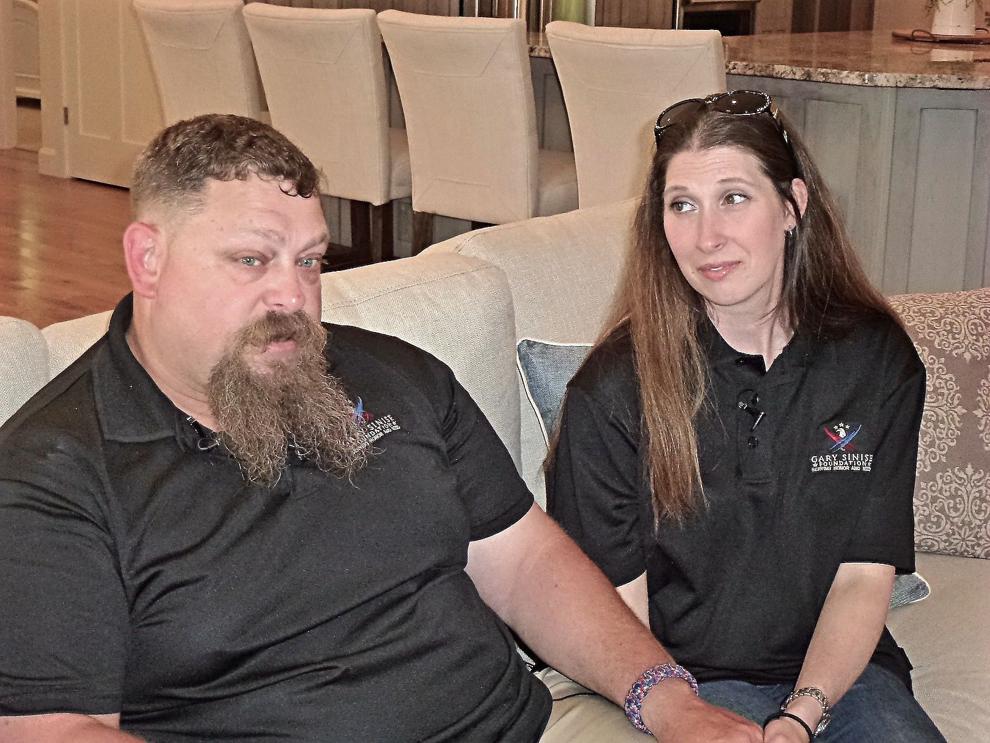 When a military an MV-22B he was flying crashed in Morocco in April 2012, Burkett suffered life-threatening injuries that left him debilitated with lower limb, lung and ocular nerve damage and resulted in the amputation of both of his legs. His recovery and convalescence have led him back to his roots and a completely wheelchair-accessible, specially adapted "smart home," built for his family on the edge of a wooded area at the end of Neshannock Heights Road in Neshannock Township.
A computer pad controls the locks and other functions within the house.
What's special about the home is that it was funded through the Gary Sinise Foundation RISE program — Restoring Independence Supporting Empowerment — and dozens of donors. The project used the help of various local contractors and vendors to create the Burkett family's dream home.
Burkett wheeled himself through the front door of his new house around noon Thursday, after helping two of his fellow Marines to raise the United States, Marine and foundation flags on a triple flagpole surrounded by commemorative bricks. His family members — wife, Melissa, and children Keenan, Josily, Richard, Lochlen, Roawlynn and Nolynn — excitedly followed him inside.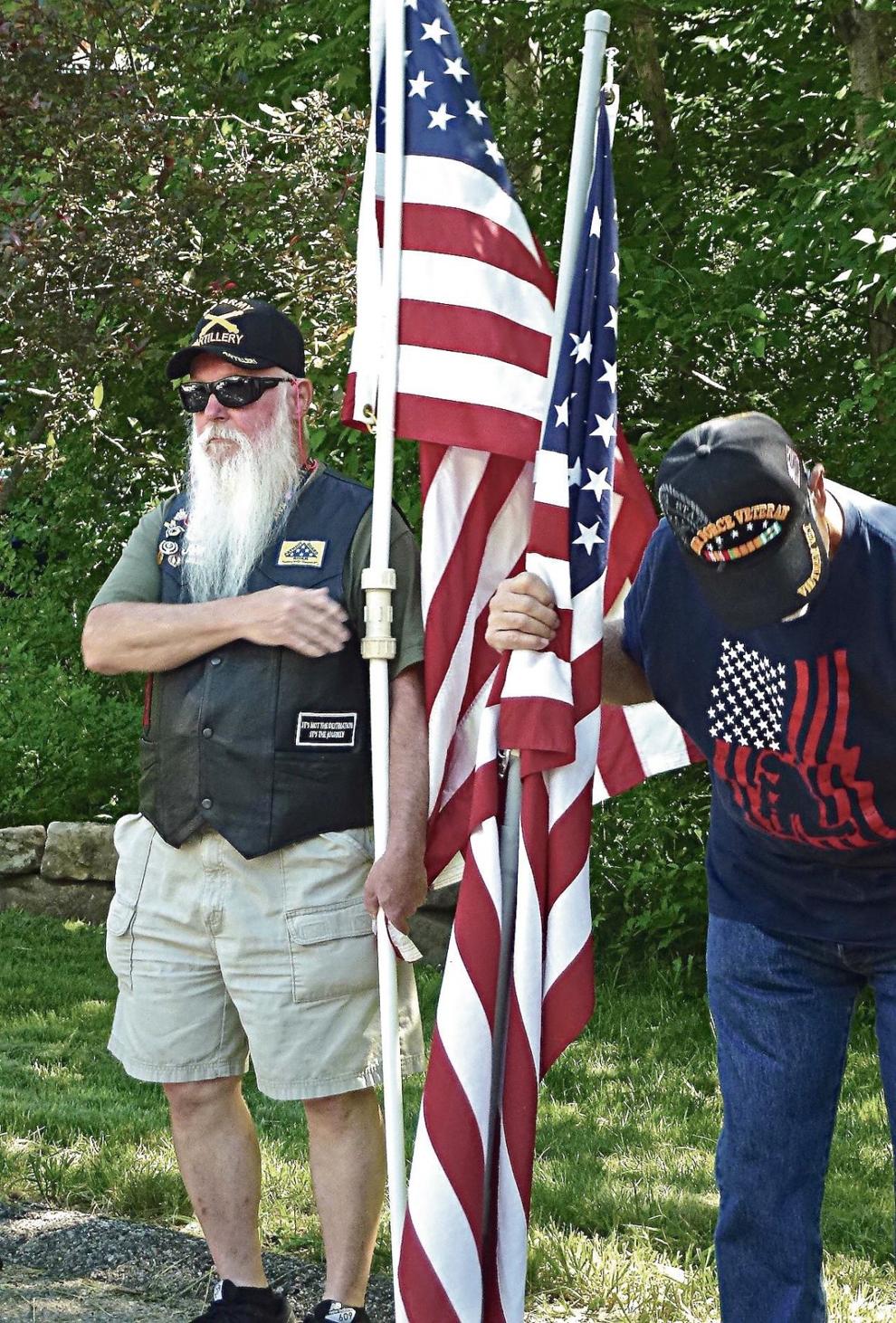 It was the Sinise foundation's thank-you for Burkett's service to his country. And while Sinise, the movie actor who started the foundation and is best known for his role as "Lieutenant Dan" in the film "Forrest Gump," did not attend Thursday's dedication, he sent a message with the promise to come to Lawrence County to visit them in their home.
"You are a champion, my friend," Sinise wrote. "Marines never quit, and you inspire us all. Welcome home, sir."
Sinise in 2013 was named as an Honorary Marine by Gen. James F. Amos, the Marine Corps commandant, because of Sinise's efforts to support military veterans.
HONOR AND GLORY
Burkett was honored as members of the Marine Corps League, New Castle Area Detachment, stood in a row with flags and rifle as honor guard, and as members of the Patriot Guard Riders motorcycle group escorted him in his wheelchair down the paved driveway that leads to his stately home.
As Burkett sat holding his wife's hand, various sponsors of the project gave speeches. Joining the group were two fellow Marines from his unit who made the trip to be with his family on their special day.
Burkett's father, Rick Burkett, who was general contractor for his son's house, led the assembly in prayer.
Burkett's father also was a Marine Corps pilot, and both of Eric's grandfathers served in World War II. His lineage extends back to when Jehu Burget fought in the War for Independence, 1775-1883.
Burkett enlisted in the Army Reserve at age 22, trained for many different specialities and attained the rank of sergeant. When he was 28, he was commissioned into the Marines and became an assault pilot, according to a history provided by a news release from the Sinise foundation.
Burkett was two weeks into his sixth deployment when the plane he was piloting as part of Operation African Lion crashed in Morocco.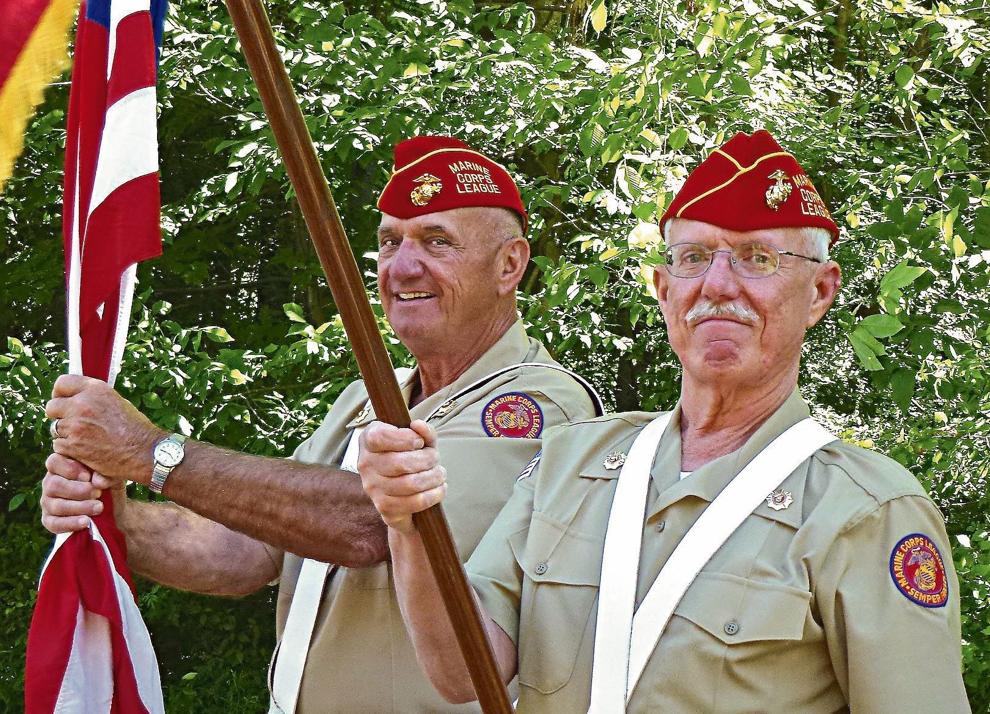 Sitting on a new tan sofa in the living room of his new house, furnished with all new furniture, Burkett explained that he felt that God had sent Gary Sinise to him.
Sinise set up a phone call to him and told him to fill out an application for the house as a formality, "but I was already accepted for it," he said. That was in December 2015. He helped to design the house to fit his needs, he said.
After getting out of the hospital, the Burketts had spent time living in a Walter Reed apartment that was not conducive to his mobility. The family had bought a home in 2003 in Jacksonville, North Carolina, and when they moved back there, he was confronted with accessibility issues because of narrow doorways and steps.
"I never figured I would be disabled, and certainly not to this degree," he said. When he retired from the military, he moved back to the New Castle area with his family to another house that was built in the 1920s and posed more issues with accessibility. That's where they were living until Thursday.
"But I woke up this morning and said, 'goodbye, steps,' because I knew I'd be spending tonight in this house," he said, adding relievedly, "all of that's gone now."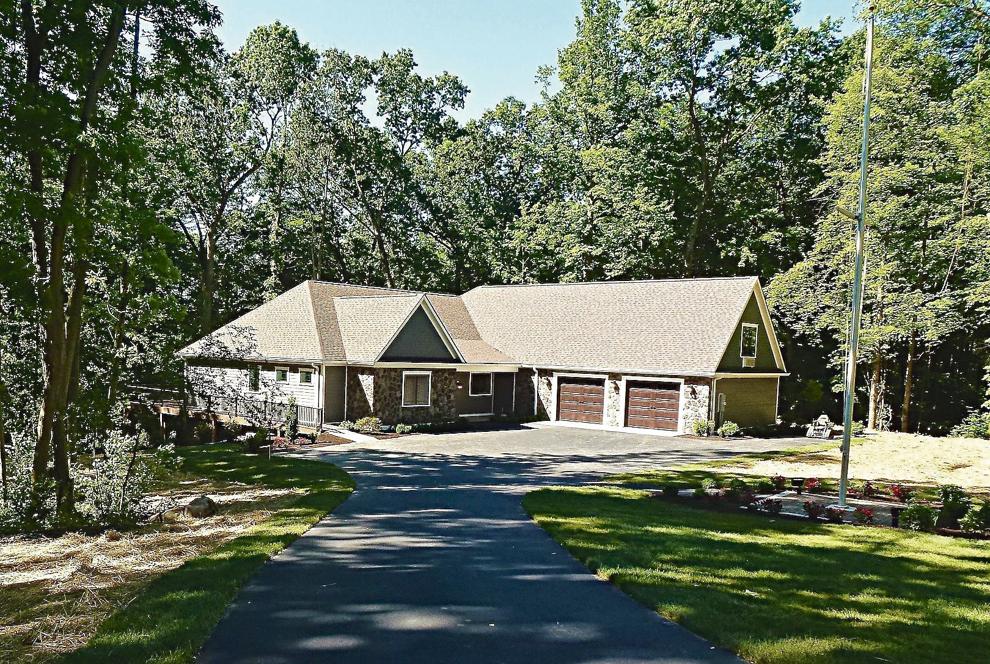 HOME AT LAST
The Burketts' new house has an elevator, and the basement has quarters for visitors, for whenever his Marine friends come to visit.
"I can't wait for the guest suite to be used, and the guys to come over," he said.
A long hallway was built especially for Burkett as an archery range, to fulfill one of his passions and hobbies.
The master bedroom and living room and dining room are surrounded by a back deck that overlooks woods and stream. A handicapped accessible bathroom includes a built-in transfer bench in the shower for Burkett to use in lieu of his wheelchair.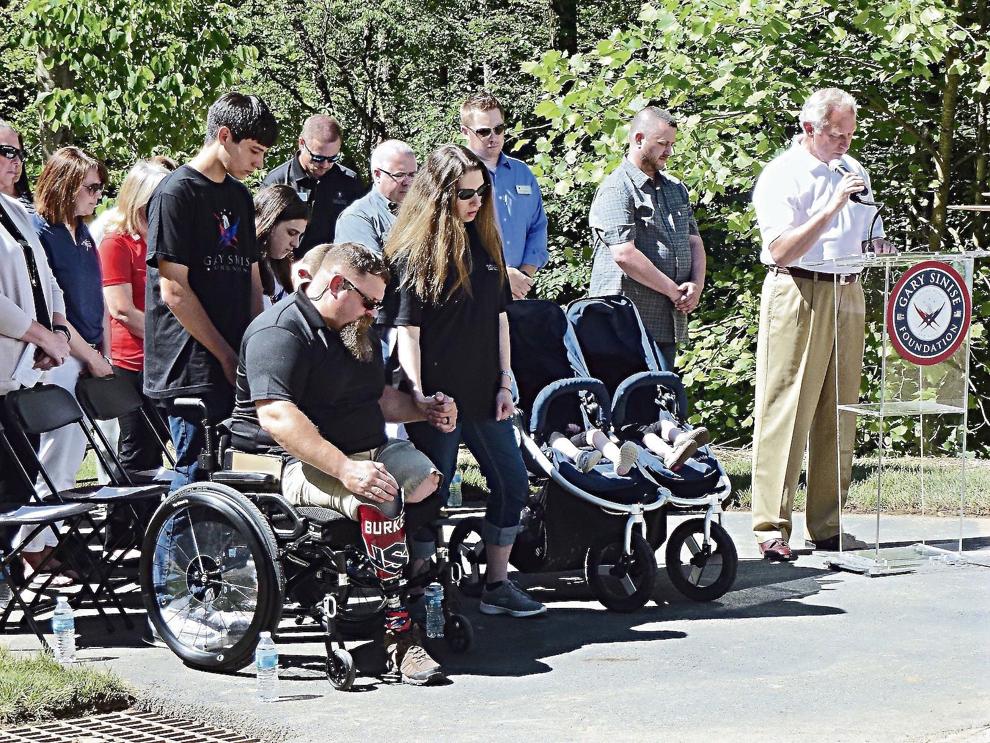 Melissa Burkett's favorite room is the kitchen, and Eric agrees. The whole family takes part in meal preparations, and there is a lower counter designed for rolling out pastries and baking.
"The kids are excited to be here," Melissa said, looking at her husband with adoration. Their older two children will have their own bedrooms for the first time, she said.
She said she appreciates that they can go outside to play and grow and learn.
"They can go outside and play and be catching turtles and minnows," she said.
Burkett gave his friends and sponsors in the house a challenge by offering each of them his own design of a "Challenge Coin."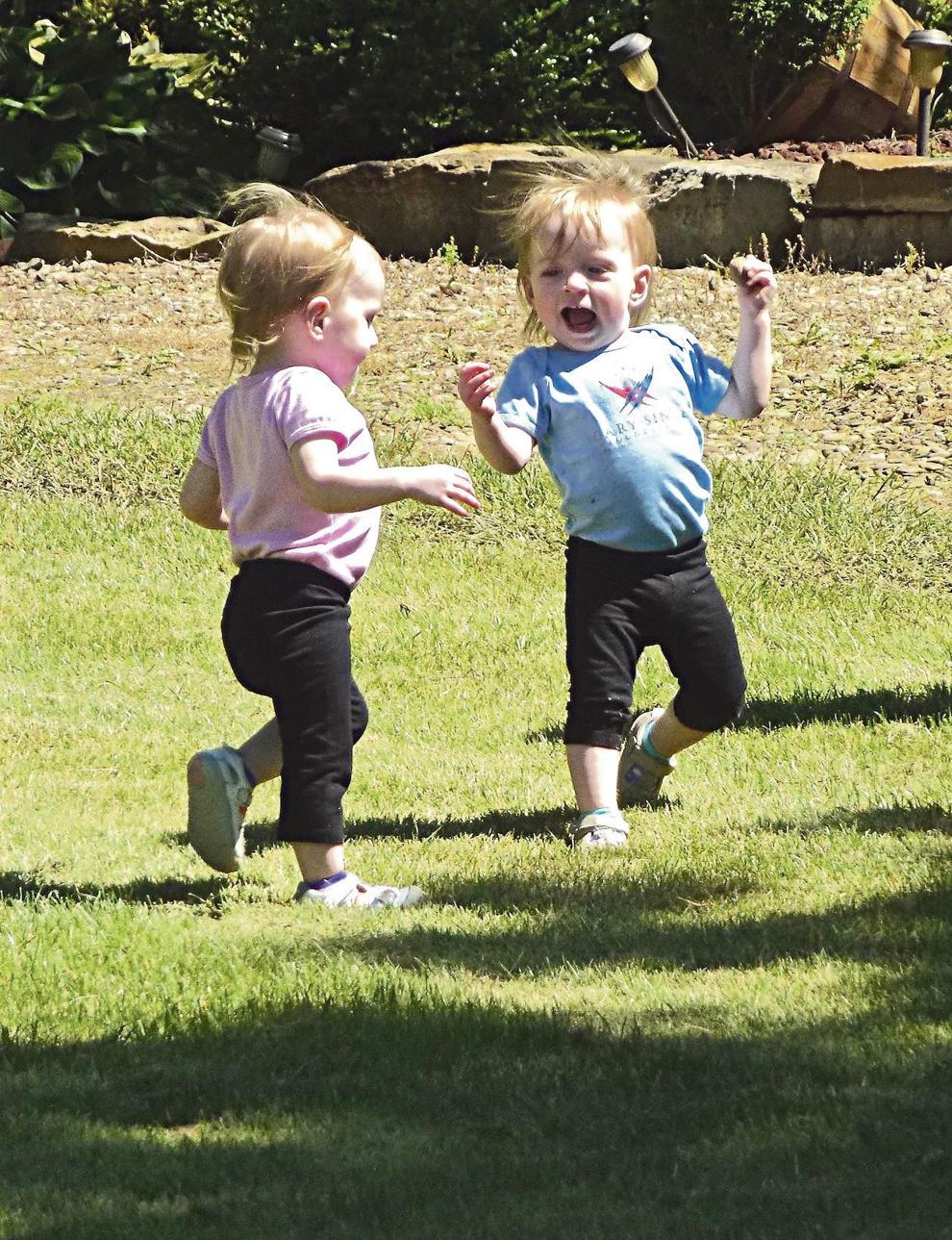 He explained that in the military, Challenge Coins are often presented in taverns where one Marine will put one down, challenging his buddy to produce one also, or to show a higher ranking one. If he cannot produce one, he buys the drinks, he said.
His coin, when traced, is the size of a 4-centimeter circle, he said, the same size as the bullseye he shoots at in archery, and the coin says, "Make Your Mark."
Citing a passage of Psalm 147:10-11, Burkett said, "I encourage you all as you leave here to strive to make your mark, and accept what God has in store for you."