It's time to dust off those cowboy boots and hats and get ready to stir up some fun.
Things are bustling at the Lawrence County fairgrounds this weekend in preparation for the 66th annual farm show.
The fair will get under way Monday with the opening ceremony and ribbon cutting, offering a lot of new attractions in addition to some of the longstanding old favorites. But before that, there's judging to do and a fair queen to pick.
"We are a beehive of activity," fair board president Melinda Lamb Marks said Friday afternoon. Judging of crafts and photography was already under way.
"The vendors are moving in, the exhibitors are moving into their stalls, the weather has been great, we're getting it together and we're excited about things starting on Monday," she said.
People are lined up again this morning at the home economics and gold barn building, with their freshly baked good and homegrown flowers and vegetables, eggs, hay and grain and wine for judging.
This year's fair has a total of 238 dairy cows, 55 beef cows, 36 sheep, 100 goats, 170 market hogs, 63 market lambs, 59 market steers, 41 market goats, 53 chickens and turkeys five turkey meat pens and nine chicken meat pens, 63 bunnies, and six meat rabbit pens.
Youths who have 4-H and FFA animals are having them weighed and bathing and grooming them in preparation for this week's show ring. And fair directors are working to make sure all of the lighting and electronics are in place for the grandstand and other areas of the grounds.
The annual fair queen pageant will begin at 7 p.m. Sunday in the community building, when a young woman will be selected to walk the fairgrounds all week, helping with various livestock and other competitions.
Monday is family day at the fair, and anyone older than 3 years will be admitted for $5. Children 3 or younger can attend free. Pony rides will be available all week and are free on Monday only.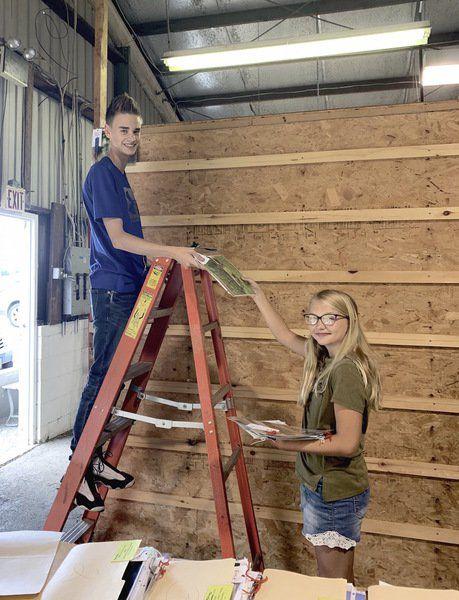 The amusement rides will be open from 1 to 11 p.m. daily, weather permitting.
And many fairgoers plan their dinner hours around the event, strolling the midway looking for something good to eat. This year's fair will have more than 70 food vendors to choose from, according to Marks.
New this year will be a straw bale decorating contest among the members of 4-H.
A number of daytime activities and competitions are planned for children throughout the week, and Ready Set Grow with Farmer Ed will feature sessions throughout the week in which children learn how to garden, through the use of puppetry.
Gone this year will be the petting zoo, but in its place will be a circus thrill act with performances three or four times daily.
Back this year after being absent many years is a motocross race presented by TNT Sports, planned for 6:30 p.m. Tuesday in the grandstand. Entrants will be able to practice in advance of the event, between 3 and 6 p.m.
Musical entertainment through the week will feature the Lawrence County Community Band performing from 7 to 9 p.m. Tuesday; gospel music by the Down East Boys from 6:30 to 9 p.m. Thursday; and 1950s and '60s music by the Dorals, from 7 to 9:30 p.m. Saturday. The Castle Country Cloggers & Paws And Taws will dance from 7:30 to 9 p.m. Saturday.
Local high school marching bands will perform at 6:30 p.m. on the midway all week, featuring Shenango High School on Tuesday; Wilmington High School on Wednesday; Laurel High School on Thursday; and Mohawk High School on Friday.
The old favorites events that remain strong at the fair will include a rodeo, a demolition derby, apple butter-making over an open fire and sales and annual recognitions by the local granges, livestock judging, the typical Wednesday night cheese auction and a calf dress-up contest, to name a few.
A complete schedule of events and activities for fair week is available online at www.lawrencecountyfair.com.