Samantha Miller is reigning over the farm show this week as this year's Lawrence County Fair queen.
Miller, 17, of Scott Township, was chosen from among four contestants as this year's royalty. She is a daughter of Jennifer and Robert Miller.
Her fair queen responsibilities include walking around the fair and talking to people as an ambassador and handing out ribbons during the judging.
Samantha also has animals at the fair that she has exhibited this week. She is a member of the 4-H Bunny Bunch and Porky Pig clubs, and a member of Laurel FFA. She showed rabbits, pigs and lambs at the fair and her lamb won the title of reserve lightweight lamb. She placed third with her pigs and rabbits.
She also is a reporter for FFA.
Miller was a finalist for Lawrence County's Distinguished Young Woman scholarship this year. She's in marching band at Laurel and she has been a Girl Scout for 13 years. Her community involvement includes volunteering for Habitat for Humanity, and she referees for the PA West Soccer Association.
"I enjoy being the fair queen," Samantha said. "I get to go to all the shows that I haven't had a chance to attend in past years."
She's been showing animals at the fair since she was a child and was always busy with her own exhibiting.
The "perks" of  being fair queen are many, she said.
"I like seeing the little kids' smiles when they see me in my crown," she said. She passes out candy, and in the show rings she passes out ribbons to the deserving youth exhibitors.
"I get to see how happy they are when they win or place," she said.
Runner up, who is this year's alternate fair queen, is Emily Withers, 17, of Pulaski Township.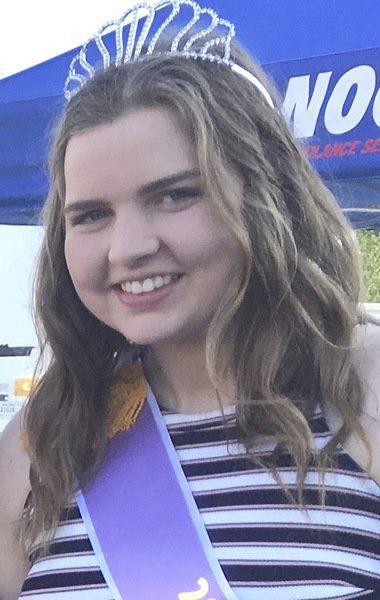 She will be a senior this year at Wilmington High School. She is a daughter of Sally and Jeremiah Withers.
Emily is heavily involved in FFA, and is in National Honor Society and is on the High honor roll.
She plays basketball for the Lady Greyhounds, and also participates in track and field. She volunteers in a lot of community service activities.
She competed in the Big E Judging Team in Massachusetts for livestock judging. She's in the Blue Ribbon Rabbit Club in 4H and was FFA vice president this year for her chapter. 
The queen and alternate were chosen by a panel of three judges, explained Rhiannon Hill, who is in charge of the contest. Her husband, Shawn, is a member of the fair board of directors.
The contestants each were judged by a written essay, a personal interview, an introduction, a speech and answering an impromptu question, she said.
"Our contest mimics the Pennsylvania State Association of County Fairs rules," Hill explained. "The state sets the rules. Our fair queen competes in Hershey every January with 60 contestants from statewide for the state fair queen title. It's a pretty big deal for a fair queen to go."
She noted that state agriculture Secretary Russell Redding and other government officials typically attend the event, which includes a banquet for about 1,000 people.
Miller will be one of those contestants in January, 2020.