The United Way of Lawrence County was a big beneficiary of this year's annual Day of Caring.
Each year area businesses, schools churches, clubs and labor unions release volunteers to spend a day helping the county's 17 member agencies to complete projects that might not otherwise get done.
Yesterday, the United Way building at 223 N. Mercer St. made the list as a worksite. Some 24 students of the New Castle School of Trades, their instructors and local volunteers, who included Scott Gibson of GRE Services, participated in a landscaping project that included tearing out overgrown bushes as well as the front, back and side steps and replacing them and the back porch.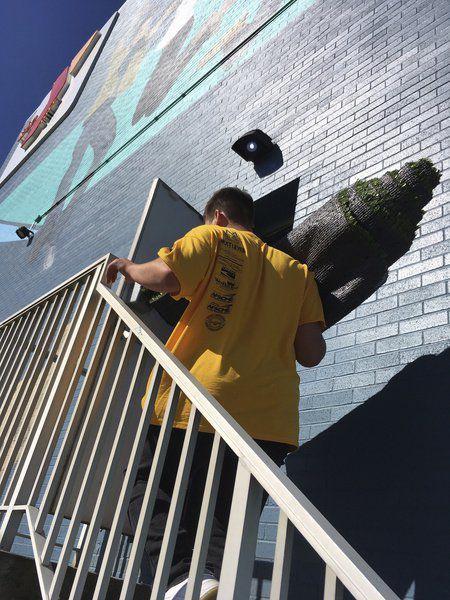 "We're so happy that we finally made the list," said United Way executive director Gayle Young. Gibson is her brother-in-law.
"We see that everyone is taken care of," said United Way board member Howard Thompson, "but we put ourselves last on the list. This year something had to be done. We hope to get the building repainted or sided," he added. "It really needs it."
Big smiles on the faces of almost 250 volunteers were as prevelent as the bright yellow "Live United" shirts they wore at 13 sites throughout the community.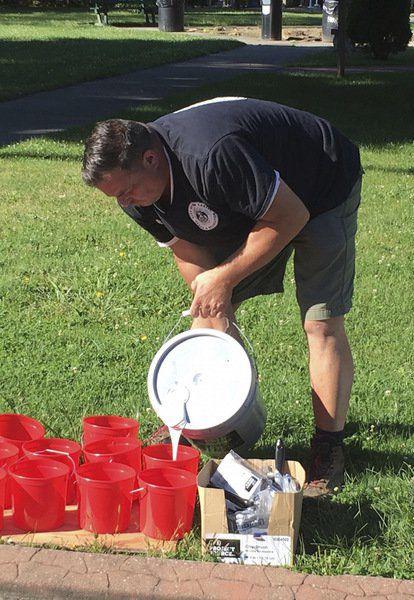 Projects ranged from painting curbs at Cascade Park to mulching Cioffi and Gettings fields; cleaning the Downtown New Castle Community YMCA and Y Zone; cleaning and stripping wallpaper at the Lawrence County ARC at 101 S. Mercer St.; cleaning at the City Rescue Mission; painting at the Crisis Shelter at 1218 W. State St.; cleaning and winterizing Boy Scouts Camp Agawam on Frew Mill Road; cleaning out the former Shenango Street train station, until recently the site of the New Castle Chamber of Commerce, at 138 W. Washington St. to make way for the Human Services Center offices to move in; and mowing, weeding and generally beautifying the community garden between Walnut and Richelieu streets on the East Side.
"We want to keep as much paint as we can on the curbs, not on the road," New Castle assistant public works director Brian Heichel told his enthusiastic volunteers from Laurel High School. He filled 10 paint buckets and sent the crew out in twos, each armed with a paint brush and rags in case of spills.
Jenna Kohner and Kendall Waterfield were two of the 19 Laurel students who turned out. This was the third year for Jenna, the fourth for Kendall.
"This is so much fun and we're doing something to help our community," Kendall said.
Other participating school districts this year were Shenango, New Castle, Neshannock, the Career and Technical Center and the New Castle School of trades.
Young noted that schools provided 70 pf the 250 volunteers who turned out.
The day started at 8 a.m. at the Cascade Park Pavilion with a breakfast donated by Medure's Catering.
 Sponsors were Platinum level: Medure's Catering and Next Level Photography; Gold level: PSSU/SEIU, Columbia Gas of Pennsylvania, Greenville Savings Bank and Wesbanco; Silver level: AFSCME #2902 and Bronze level: AFSCME District Council 85 and Beaver/Lawrence Labor Council. Doug McIltrot provided music and led the volunteers in the national anthem prior to their departure to their work sites.
"Have a wonderful day," Young encouraged the volunteers as they departed the pavilion.
"This is the sort fo day we pray for," Young said. A thunderstorm last year as volunteers left the building did little to build confidence that anything would be accomplished but most of the volunteers remained through the day, she said.
Next Level Photography donated their professional services and water was donated by DeCaprio Cleaning. Pizza Joe's - Croton, Mangino's Pizzeria – Neshannock, Mr. Pizza, Pizza by Marcheloni, and Pizza Man's Pizza donated pizza. 
Day of Caring includes United Way this year