The old military adage says that no plan survives first contact with the enemy.
Even when the enemy is a virus.
Like so many others, the United States Army Band "Pershing's Own" -- the premier musical unit of the Army -- experienced that when the COVID-19 pandemic derailed its plans for live concerts in 2020. But the unit regrouped and, with the help of a specially built stage to allow social distancing and a platform on which to place tripod-mounted, remote-controlled 4K cameras, the musicians mounted a new offensive via live-streamed performances.
So far, the band has given over 40 such concerts, all with the theme "United We Stand: Music to Connect Us."
"We're just hoping that music is able to connect all of us," said Staff Sgt. Joshua Kauffman, a Lawrence County native and trumpet player with Pershing's Own. "When the nation is in crisis, the Army has always led the way somehow.
"So we've shifted our mission focus to creating ways to engage people in a digital space to hopefully provide joy and inspiration to everyone at home."
That wasn't just the band's idea of a way to keep busy. It was an order from the top.
"That was one of the directives from our commander, to show the American people that the Army is always there, and that we're always ready," said Master Sgt. Chris Branagan, the band's public affairs officer.
"That was a big part of putting these concerts on, to show people our mission doesn't stop. We're always here."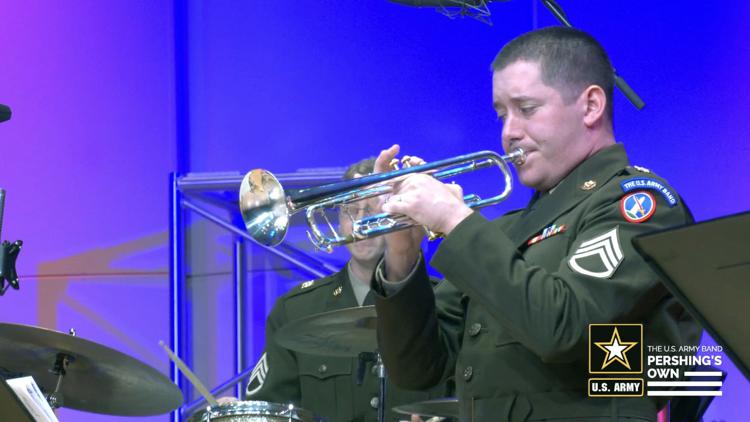 Kauffman is a 2012 Neshannock High graduate with a bachelor's degree in jazz studies from the University of North Texas, where he played in the Grammy-nominated One O'Clock Lab Band for three years. He's had the opportunity to share the stage with such greats as Doc Severinsen, Bobby McFerrin, Frankie Valli and the Four Seasons and Wycliffe Gordon.
The son of Joni and Ken Kauffman also has had the opportunity to organize two of the band's streaming concerts. One was a tribute to the 75th anniversary of the end of World War II in Europe.
"Some of the senior guys knew that I love Big Band music," Kauffman said. "I have a very personal connection because of my grandfather (retired pastor Kenneth Kauffman) being a World War II veteran. So I organized that concert and we found all kinds of footage of the bands in World War II and I had photographs of my grandfather and talked about how I became interested in his music.
"Really, he was the reason why I wanted to join a military band because he showed me who Glenn Miller was, and talked about Major Glenn Miller and the Army Air Corp Band, things like that."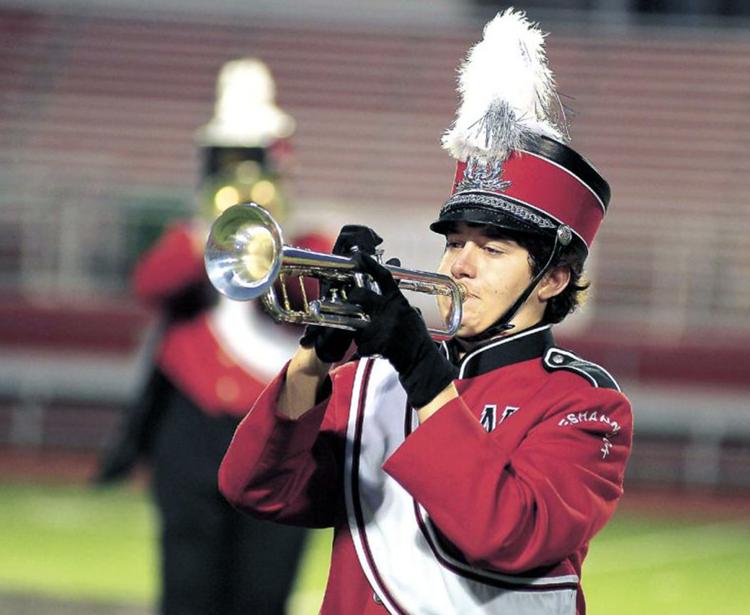 For his other show, Kauffman came up with the idea of featuring the music of Louis Armstrong.
"HIs entire life, he was always helping the community," Kauffman said of the legendary jazz trumpeter. "Even in the midst of the Great Depression, people were paying to hear him play. Music was one of the only things they had left during that time."
Armstrong, Kauffman said, also recorded on V-Discs, which the War Department released to U.S. troops for morale purposes, and would go on tours that once included a stop in a war-torn African province, where a ceasefire was called so that both sides could hear him play.
"So my reason for picking him, along with the VE Day, is that what we've been showing is how American music -- and in particular, jazz for me -- has led us through other difficult times, which is similar to what the Army band is trying to do now," Kauffman said.
Branagan noted that Pershing's Own is fortunate to count members such as Kauffman among its ranks.
"He's been a tremendous asset to this team," he said. "We've got great musicians all over the building, but Josh has really made an impression on everybody with his musicianship, and he's just such a good guy. He's a real pleasure to work with."
Still, live-streamed concerts aren't the only thing that Kauffman and his bandmates have been tasked with during the pandemic. Some of the musicians stationed at Joint Base Myer Henderson Hall in Arlington, Virginia, have been assigned to the commissary, enforcing social distancing and building population guidelines. Others have been placed at the entry and exit points at Fort McNair -- "where a lot of top Army officials work" -- taking temperatures, inquiring about recent travel and making sure that no one is showing COVID-19 symptoms.
As for Kauffman, he's been working at the Andrew Rader U.S. Army Health Clinic at Myer Henderson, working with the pharmacy's drive-through service station. He takes the prescriptions from soldiers as they drive up, directs them to a parking space, then radios their location to the pharmacists so that the medicine can be brought out to the patient.
"It's not like I'm guarding Fort Knox or anything like that," Kauffman said, "but it's been nice to work with people outside of the Army Band, because other than maybe funerals and change-of-commands and things like that, I hardly see soldiers outside of the Army Band.
"It's been really nice to have some sort of camaraderie between other people in the Army. I've been enjoying that experience quite a bit."
Branagan praised Kauffman and other band members who have embraced such duties.
"This is certainly not something we expect as we go through our careers, training as musicians in some of the finest music conservatories in the world," he said. "The folks that have stepped up to volunteer for those duties do it with a tremendous amount of professionalism and they've always got smiles on their faces."
Still, both Branagan and Kauffman are looking forward to performing concerts before live audiences again, although Kauffman doesn't believe that will happen until at least next year.
For a guy who absolutely loves his job -- he just re-enlisted last month and plans on staying with the band for at least another two or three decades -- that's tough.
"I'm dying," he said. "There are certain times I just sit at home and I feel so empty because music is the main language that I speak, and I haven't conversed with anybody in months."