It came as a surprise to some local business leaders that the plastic, bear-shaped bottles sold with honey in them will be manufactured in Neshannock Township.
That was a highlight that Linda Nitch mentioned Friday morning as she detailed more than $1 billion worth of new or ongoing investment in Lawrence County.
Nitch, director of the Lawrence County Economic Development Corp., was the keynote speaker at a breakfast of the CareerLink's Employer Advisory Council. About 50 local business people attended at CareerLink's Margaret Street headquarters. She described a list of projects that have enlisted the economic development corporation for help in their plans.
The company that makes the bear-shaped bottles among its other products is Container Services Inc., which is now hiring at the Neshannock facility, Nitch said. The company, with headquarters in Hillsboro, Kansas, makes plastic containers that meet specific requirements for the the packing industry. It purchased a 45,700-square-foot building in the Neshannock Business Park, formerly known as the RIDC Park, off Route 18 in Neshannock Township. Its manufacturing business serves markets in Pennsylvania, Ohio and Michigan. The company will start two shifts at the location and projects a total employment of about 75 people, she said.
The International Brotherhood of Electrical Workers Union Local 712 soon will be one of its neighbors, with a new training center in the business park, Nitch pointed out. The union, located in Beaver County, acquired a $1 million state Redevelopment Assistance Capital Program grant for the venture, she  said.
The electrical union purchased six acres in the business park. Its new building will be used for training and education for journeymen and apprentices for the union, and for administration, Nitch said.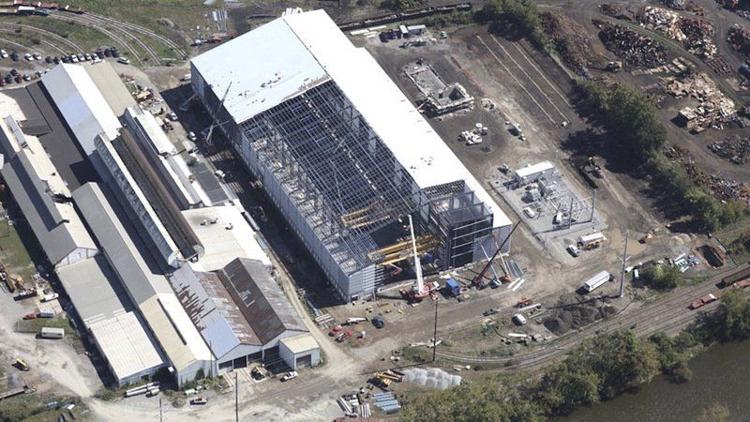 BIG INVESTORS
According to Nitch, the three top investors within Lawrence County have initiated $973 million worth of projects, and  The top construction projects going on in and near the county, with investments exceeding $1 billion, in order of their amounts of investment, are:
•The $6 billion ethane cracker plant construction by Royal Dutch Shell, in neighboring Beaver County, targeted for completion in 2021. Nitch noted the plant will have far-reaching economic impact on the southwestern region of Pennsylvania, including Lawrence County. The project is less than 30 miles from New Castle.
•Hickory Run Power Plant, an $863 million, natural gas-fueled electrical generation plant that is under construction off Route 551 in North Beaver Township. The plan is expected to be up and running by April 2020, to provide clean and reliable power to the area, Nitch said, adding, "It's unique to see huge cranes in North Beaver among all of the cornfields." 
•The Pennsylvania-American Water Co. expansion project for southern Lawrence County, a $50 million investment, is nearing completion in New Beaver Borough. The plant will provide public water service to 18,000 customers in the boroughs of Ellport, Ellwood City, and New Beaver In Lawrence County and Koppel in Beaver County, as well as to the townships of Perry and Wayne in Lawrence County and Franklin, North Sewickley and Jackson in Beaver County.
•The Ellwood Group, the largest industrial employer in Lawrence County, has built a $60 million, 110,000-square-foot building that will soon be in use. The facility will house a remelt operation for high-alloy steels that will serve the aerospace and defense markets. Nitch noted that one product of the company is landing gear for airplanes.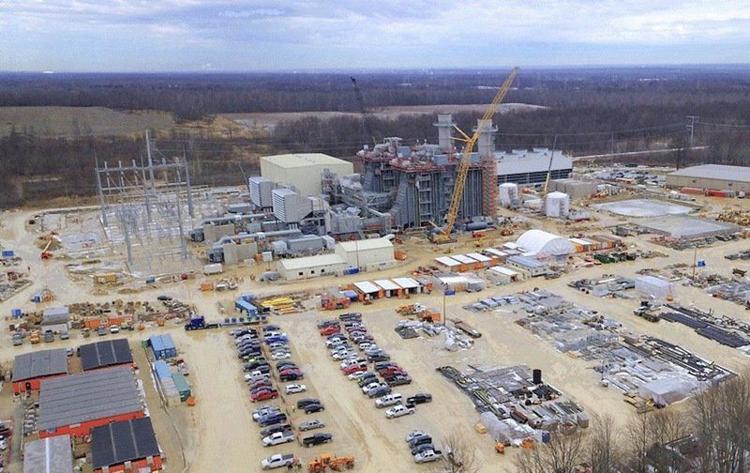 SMALLER PROJECTS COUNT
In addition to the big investors, Nitch also gave overviews of some newer, smaller ventures — some of them unusual — that are filling niches in the community. Here is a rundown of those projects:
•McClymonds Intermodal Complex, located on the former New Castle Refractories property on Industrial Street. The Lawrence County Economic Development Corp. acquired ownership of the land, obtained a $1 million grant and negotiated the sale of the property with McClymonds. The project involved demolishing five buildings, installing rail and utility lines and renovating one existing building. The project involved a $5.4 million private investment and has generated 44 new jobs. The company supplies dry bulk materials to commercial, residential and highway construction companies, landscapers, industrial manufacturers and mills, the oil and gas industry and others.
•Holistic Farms marijuana grow facility in the former Snark Boats building at 911 Industrial St. The company received one of the first medical marijuana growing permits in the state, Nitch pointed out.  The company was approved to begin its operations there in January 2018. The operation is expected to generate 100 to 150 permanent jobs when it reaches full capacity.
•Fresh Market Place at New Wilmington Center, 129 Chestnut St., New Wilmington, open May through September on Saturdays. The economic development corporation helped to obtain a $78,000 USDA Farmers Market Promotion Program grant to expand the borough farmer's market. Now in its third year of a three-year grant contract, the market has boosted vendor sales by more that 300 percent, and has attracted 10 times as many visitors, Nitch said.
•Steelite International, located in Millennium Park off King's Chapel Road in Neshannock Township, has begun construction of a $4 million project to expand its warehouse by 52,000 square feet. The project is being funded in part by a $1.5 million state Redevelopment Assistance Capital Program grant it obtained through the economic development corporation. The building is expected to be completed this year. Steelite is a British company that manufactures tableware for the hospitality industry and has a marketing distribution center in Neshannock. The company also is expanding into the Youngstown area, Nitch said.
•Lawrence County Economic Development Corp.'s multi-tenant building in Millennium Park  is being leased by Steelite. The economic development corporation expects to complete the final "build-out" of the building this year with grant funds totaling $242,000 from the Appalachian Regional Commission. Nitch said the building will become vacant and available for businesses and industries to lease once Steelite's addition is completed, and the agency is looking to market it.
•Wish Development has completed Ward's Ridge, an office complex in Neshannock Township that houses the Pennsylvania Department of Health, Vital Records and Janney Financial Advisors. The building is located behind Field Club Commons and the property has a half-mile walking trail.
•Creekside Springs, a Pittsburgh based water bottling company, is opening a warehousing facility at 416 Pittsburgh Circle in Ellwood City. The Beaver County-based company bought the former Industrial Tube Cleaning. The economic development corporation and Ellwood City Borough are helping the company finance a $1 million renovation project, Nitch said, noting that eventually the company could house a portion of its packaging operations there.
•Ellwood City Medart, a designer and builder of machinery for the metal industry, is renovating and expanding its building on Clyde Street from about 55,000 square feet to 65,000. The company received a $1 million Redevelopment Assistance Capital Program grant for the venture. The project completion is targeted for 2020 and is expected to add 20 jobs.
•UPMC School of Nursing and Radiology was recently completed by Wish Development Co. at 2414 Wilmington Road. The renovated building formerly housed Commercial Printing Co. The school opened there this month and anticipates having 55 students enrolled, Nitch said.
•New York Blower completed a 30,000 square-foot, $4.7 million expansion in the Shenango Commerce Park last year, adding 22 jobs to its 18-person workforce. The Willowbrook, Illinois, company makes fans and blowers for the industrial and equipment manufacturing markets.
•VentiSei Winery opened at 1409 Wilson Ave., New Castle, last year. Family owned by Denny and Rick Flora, the establishment makes its own wines and donates $1 from every bottle sold to Lawrence County Empty Bowls, helping to fund summer foods, in coordination with the Greater Pittsburgh Food Bank. 
BROWNFIELDS
In addition to assisting business and industry with growth opportunities, the economic development corporation and the county have secured grant funding through the federal Environmental Protection Agency's Brownfields Assessment Program. A $200,000 grant will be used to evaluate the types and levels of contamination at former industrial sites throughout the city of New Castle. The effort is designed to bring viable industrial and commercial properties to good use, Nitch said. One area of concentration will be the former Shenango China property on the city's West Side.
Nitch also noted that Lawrence County's unemployment rate has dropped from 10.9 percent in 2010 to 5.2 percent. Accordingly, the population has decreased from 91,000 in 2010 to between 88,000 and 89,000 currently, Nitch told the group.
She noted that high school graduate percentages have increased from 86.5 percent in 2010 to 89.9 percent, and the number of bachelor's degrees attained has increased from 18.6 to 20.8 percent.
Eileen Borrelli, director of CareerLink Lawrence County, noted that the agency will sponsor a job fair and training expo from 10 a.m. to 2 p.m. Tuesday at the CareerLink center at 102 Margaret St., for job seekers and training providers. The sessions are to help those seeking jobs to find employment and to help employers find responsible and able workers. The events, held quarterly, typically attract more than 100 people.