Thousands of Italian honey bees swarmed to a temporary home Tuesday afternoon on a fence in downtown alley.
"There was a hive of bees that just got too crowded," said Karl Lutgens, the beekeeper for Hillcrest Apiaries in New Wilmington. "They could see there was no room to store honey, so half of them up and left."
Julie Crist and Brielle Freed, both personnel at the Lawrence County DUI Program, were on their lunch break when they saw a swarm of what was estimated to be between 20,000 and 30,000 bees on the fence along North Cochran Way behind the former Penn Power building.
The women called Patrick McGuire, health officer in New Castle, who in turn called Lutgens.
"Somebody told me to call him because he's awesome," McGuire said.
In order to gather the bees up, Lutgens repeatedly shook the fence to disperse them in the hope they'd see the others who were "fanning," or notifying the others the queen was inside the "super," which is a box used for transporting.
According to McGuire, the bees had just eaten, so the odds of being stung were low.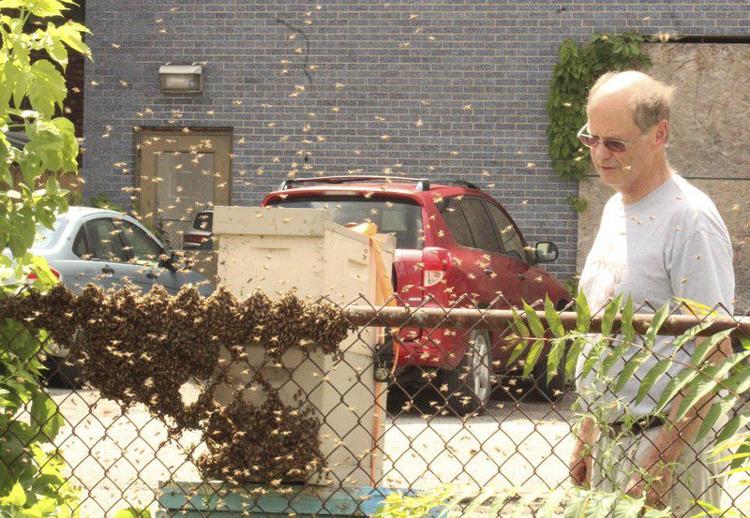 Along with the queen, who had been placed inside the super by Lutgens, thousands of female workers began to slowly join her inside. No male bees, known as drones, were in the swarm, according to Lutgens.
"Years ago, we could do 15, 20, 25 (swarms)," Lutgens said about how many swarms he would capture in peak season. "This is the second one this year. The bees are dying."
According to Lutgens, half of Pennsylvania's honey bees died last winter, so there aren't many swarms.
"We lost like 38 percent of our bees this winter," he said.
Lutgens, who has been a beekeeper for over 40 years, will take the swarm to his property, which houses almost 40 hives with more than 60,000 bees per hive.
"You'll see them (the bees) on the Volant Hill tomorrow or the next day," he said.