Beginning April 30, no one will be collecting tolls from drivers on Interstate 376/Beaver Valley Expressway.
But motorists will still be paying to use the toll roads.
Turnpike patrons will be charged electronically via their E-ZPass or will receive a bill in the mail after a camera scans their license plate at the toll booth.
"The technology and systems for the cashless tolling pilot project on the Beaver Valley Expressway/Toll 376 in Beaver and Lawrence counties have cleared testing," Turnpike CEO Mark Compton said in a press release issued last week.
Compton the change is important to customers.
"We want to ensure our motorists are informed and prepared," he said. "If you have an E-ZPass your toll is collected using the same process motorists are familiar with. If you don't have an E-ZPass, cameras on the expressway photograph your vehicle's license plate as is passes under overhead equipment. A bill is then sent to the vehicle's registered owner by mail."
This, he said, allows patrons to pay without stopping at toll plazas. Tolls are assessed electronically as vehicles travel at posted speed limits through the plazas. E-ZPass users' tolls will be deducted from their pre-paid account as usual. Customers without the E-ZPass will receive a monthly PA Turnpike Toll by Plate invoice.
As with all new technology, customers are concerned about "kinks" yet to be worked out in the system.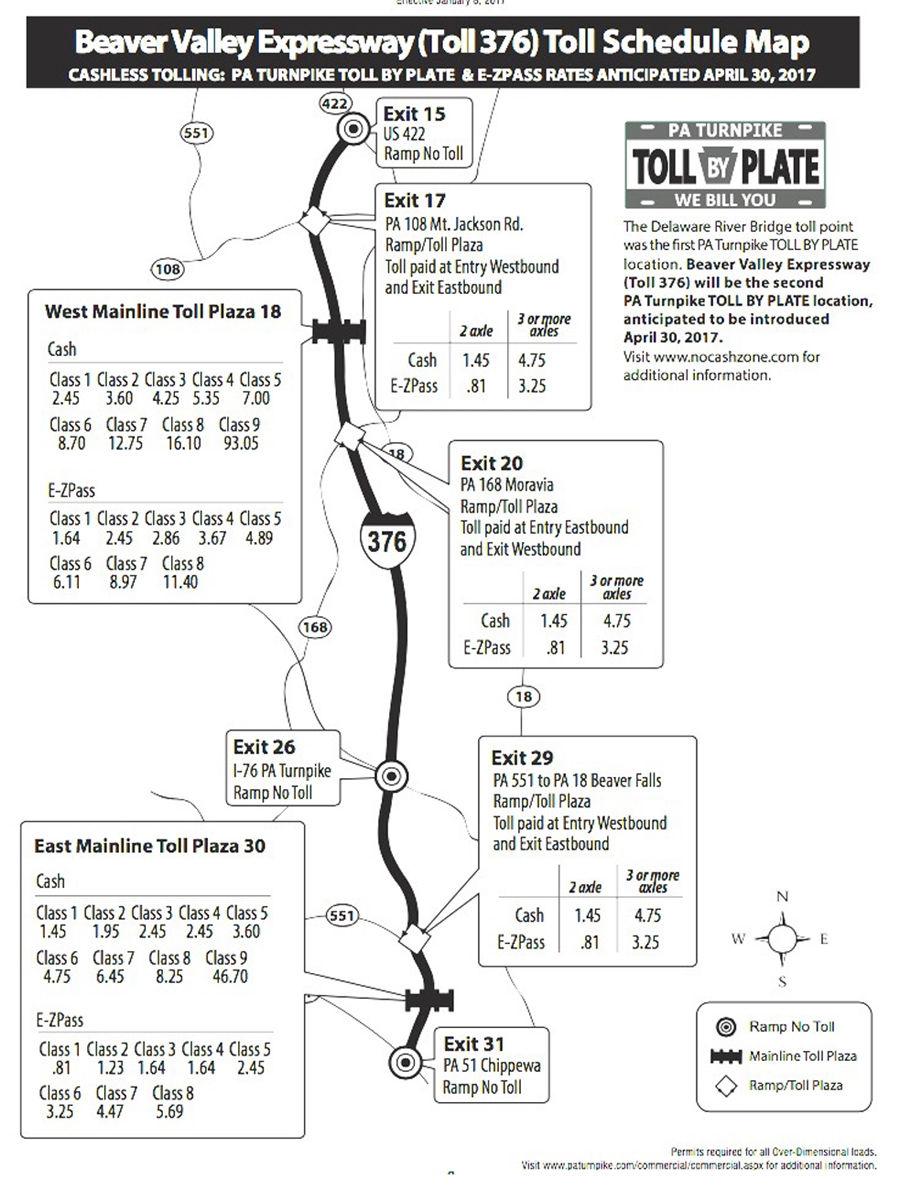 Alberta Tharpe of Neshannock Township, a frequent turnpike user who has had an E-ZPass for some time, said her device is not always read by technology currently in place.
"We went through the toll plaza and a red light came on. It didn't read it," she said. "The toll booth attendant had to take the device from Tharpe's car into the office to get it to register."
"I just hope they keep the people at the toll booths," Tharpe said. She added she is concerned that the passes could be missed and motorists could be billed via the Toll by Plate system which charges a higher rate.
"What are we to do? Keep track of our trips to be sure we're paying at the right rate?"
At this time, E-ZPass rates are lower than paid by cash payers. For example, someone entering the toll road at Route 108/Mount Jackson Road, Route 168/Moravia or Route 551 to Route 18 Beaver Falls would pay $1.45 if paying cash and 81 cents using E-ZPass.
Carl Defebo of the turnpike commission said the turnpike introduced cashless tolling in January 2016 near the Delaware River Bridge at the eastern end of the system. By next spring, he said, the turnpike will introduce cashless tolling at the Keyser Avenue and Clarks Summit interchanges on the Northwestern Extension, Interstate 476, in Lackawanna County.
"We selected these areas to test the system under different conditions and gauge the impact on customers," Defebo said. "These are rural areas off the mainline of the turnpike, but close to the state line to provide a mix of in- and out-of-state users. Fewer customers will be impacted due to lower average daily traffic.
"We didn't want areas in the early rollouts that have a lot of customers. We wanted to evaluate the safety and effectiveness of the system."
He noted that where conversion to cashless tolling has taken place, users find it safer, quicker and more convenient. Customers don't have to change lanes depending if they have an E-ZPass of not. Travel times are shorter because customers don't have to stop at toll booths.
Defebo said motorists with questions may sign on to paturnpike.com for answers pertaining to everything from obtaining an E-ZPass to calculating tolls and other questions.
He added that about 80 percent of turnpike users have the E-ZPass.
According to the website:
•No toll collector will be laid off because of the cashless tolling program, but some could be relocated to other locations.
•The Pennsylvania State Police will continue to patrol the turnpike to ensure safety.
•The toll collection system cannot be used for speeding citations.
•Out-of-state motorists will be billed through E-ZPass or their license plate. Registered plate holders will receive an invoice through the mail.
•If a vehicle is reported stolen, the owner will have the opportunity to show he is not responsible for the tolls assessed for using the turnpike system.
•Individuals driving rented vehicles should check with the rental company regarding toll policies and payment options. E-ZPass owners may log into their account and add a rental car license plate to their account and set a start and end date for the plate.
•If a vehicle owner claims an invoice arrived in error, he may appeal, requesting to see a photograph showing the vehicle that drove through the tolling point. If there is still a dispute, the owner may contact the Pennsylvania Turnpike Commission customer service center in Harrisburg.
•Motorists have 20 days to pay invoices received, and may pay by check, money order or credit card. Cash payments are only accepted at the customer service center.
(Email: nlowry@ncnewsonline.com)