Two more Lawrence County residents have died due to COVID-19, state health officials reported Wednesday.
The death count stands at 66, up 31 since Nov. 1, meaning nearly half of the county's deaths occurred this month.
Also reported were 57 new cases, 35 were confirmed and 19 were probable, which brings the county total to 1,986 since the beginning of the pandemic. 
Of those, 1,536 are confirmed and 450 are probable. Lawrence County reported 70 negative tests on Wednesday.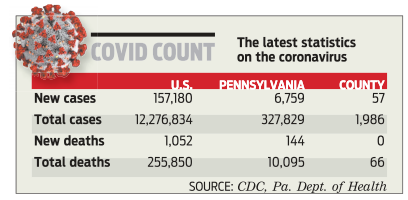 Lawrence County entered its fifth consecutive week of being in the substantial phase of community transmission.
At UPMC Jameson, there are 22 COVID-19 patients hospitalized. There are four COVID-19 ventilators in use. Six adult patients are in the COVID-19 intensive care unit.
The state reported 6,759 new cases on Wednesday. The statewide case total currently stands at 327,829 since the beginning of the pandemic. There were 144 new deaths reported statewide, bringing the total to 10,095.
Additionally, there are 3,990 individuals hospitalized statewide with COVID-19. Of that number, 858 patients are in the intensive care unit and 441 are on ventilators.
Most hospitalized patients are 65 or older, and most of the deaths come from patients 65 or older.
On Wednesday, the Wolf administration sent out its first COVID-19 update text message from the national Wireless Emergency Alert system around 4:30 p.m. The message stated that due to rising rates of the virus to stay home if possible. It also encouraged residents to download the COVID Alert PA application.
There will not be a data update on Thanksgiving because the state Health Department office will be closed. Data updates will resume the following day.