If smartphones were authors, then the iPhone is "Game of Thrones" author George R.R. Martin, glacially releasing stories with legions of rabid, impatient fans waiting. That means Samsung is James Patterson, releasing book after book in a variety of genres — most of them are forgettable, but some are good.
Samsung's competitive method against Apple has been to release a universe of Galaxy devices. From the terrible S4 Mini to the awkward Mega phablet; from the obvious-iPhone-4-wannabe Alpha to the all-around powerhouse S5. The Note 4 is one of the best smartphones on the market right now, but Samsung found a way to tweak it into a different model: the Galaxy Note Edge, featuring a curved screen.
The Edge ranks much closer to "Along Came a Spider" than "Postcard Killers" (According to the Internet, that's the worst Patterson book out there). It's basically a Note 4 — it features the same aluminum body, tough Corning Gorilla Glass, gorgeous display, lightning-fast processor, incredible camera, finicky fingerprint reader and pointless stylus.
What makes it different is that curved extra panel. And it's surprisingly useful.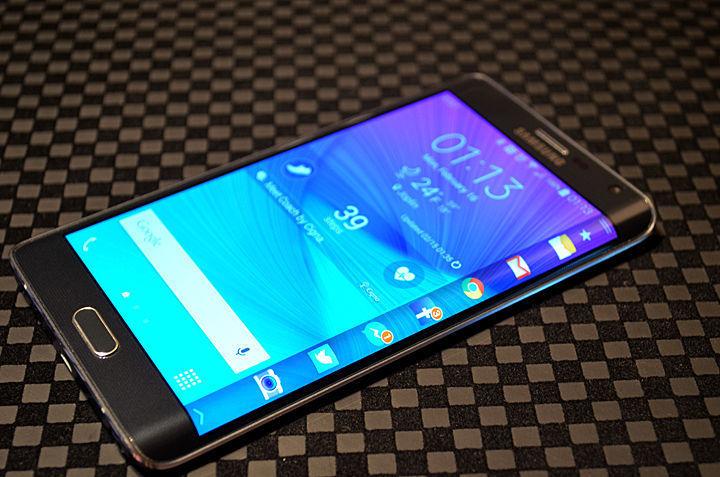 Note 4 thrown a curve
I used an Edge on loan from AT&T for about three weeks and found that the panel streamlined my usage and experience. It added a great enhancement to an already outstanding phone. In fact, everything good and bad remains intact in the Note Edge, including these raves and rages:
• The displays are incredibly sharp. The Edge's entire screen is bigger, but the panel cuts in just a bit, so the Note 4's displays is actually just a shade larger. Tough to tell the difference, though. Movies and TV shows looked sharp.
• Both phones have the same 2.7 GHz quad core processor and 3 GB of RAM, so everything from games to apps play smoothly. Both also allow up to 128 GB in microSD storage.
• The battery is just a hair bigger on the Note 4, but not by much. Both the Note 4's 3,220 mAh and the Edge's 3,000 mAh allow for fast charging.
• Both have the same useless S Pen. I got extra time to review the Edge, and I used the pen once — to draw pictures on top of a selfie. I still haven't seen how the pen benefits productivity. (I'd love to hear how you use it: Email or tweet me.
• Both devices have the same outstanding cameras. The Edge features the same wider-angled rear-facing almost 4 megapixel camera, making group selfies much more easily. And the front facer is just as much a beast, with the same fast focus and low-light capability.
• Both devices feature the same annoying fingerprint reader. It's finicky, fickle and frustrating, requiring a very precise movement to work.
Panel packs a punch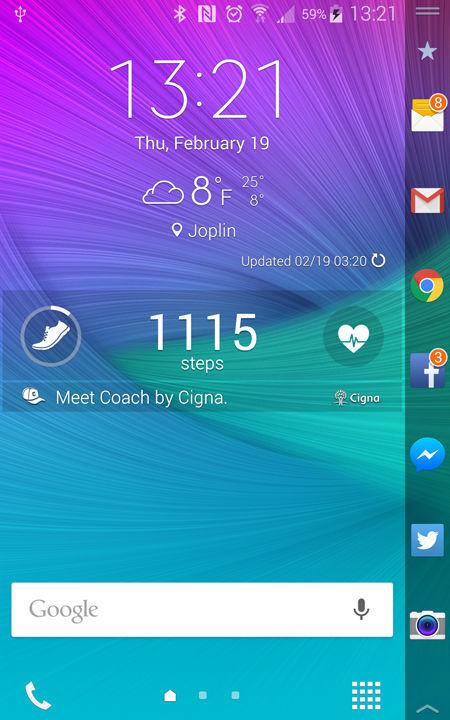 Because the Note Edge is basically a Note 4, it starts out as an outstanding phone, even before taking that curved panel into consideration. Overall, the panel adds layers of productivity and function to an already great phone by expanding on Android's notifications and designing custom apps.
I was able to customize one panel to hold exactly the apps I wanted, so my desktop was clean. The panel, about 5/16ths of an inch wide, stretches vertically across the right edge of the screen, which curves downward. Because it stretches around the side of the device, its aluminum frame has an extended lip, so it's possible to get a good grip on the device without touching the display.
That panel becomes a separate desktop filled with shortcuts, notifications, tools and standalone apps. The panels can be scrolled through just like the desktop and customized accordingly. Up to seven different panels can be rotated back and forth, from updates to video games. (A word of advice: Don't waste time with the video games. None of them play well, and anyone wanting to game will want to play something on the device's full screen — why waste time with "Tiny Word" when "Words with Friends" is so much better?)
Samsung says more panels are in development, which is good, because the available selection is a bit narrow. News, for instance: A CNN panel displaying headlines never loaded correctly for me, and I'm not a fan of Yahoo News — but those are the only news-related options.
But other panels are incredibly useful. One of the panels featured information about data usage. Being able to get a glance at that potentially bill-altering data with just a few swipes is incredibly helpful. And a set of shortcuts in each panel allows access to several handy tools, including a flashlight, stopwatch and ruler — yes, a ruler. I used it in a pinch when I needed an actual ruler.
As for how it fits in with the rest of the phone:
• Notifications flash across the panel, not the top of the phone, leaving your apps alone. That's brilliant, except for one major problem that we'll get to...
• Most of the time when using apps, the panel goes dark, featuring a message you can customize. But because notifications pop up there, the screen real estate used for any apps is never covered up.
• When using the camera, the controls shift to the panel, instead of being on-screen. I can see how other users would love this, but for me, it was an intrusion that required altering how I grip a phone for picture-taking.
• Most people asked me, "How do you keep from accidentally touching the side?" Accidental touches weren't much of an issue for me — they happened, but not often. The device's extended lip worked really well when holding the phone vertically. Horizontally was another story, however: A majority of my accidental taps happened when I was watching videos.
Upside-down annoyance
The most frustrating thing about the panel, and what keeps it from being a true game-changer, is a basic problem: The panel is upside-down.
From a vertical perspective, the panel's readability was rotated 90 degrees clockwise, not counter-clockwise. That means when the device is resting with its screen up and the curved panel is pointed at the user, all the panels are upside-down! And when the phone is rotated for the text to read correctly, the curve of the glass points it away from the eyeballs!
That's a big design flaw that completely negates the point of having a side panel. Did no one testing this device think to set it beside their keyboard? I know plenty of people who keep their phones on their desk — especially my Globe co-workers, many of whom swear by social networks and texting.
The phone offers a setting to flip the screen 180 degrees, but that just effectively moves the panel to the left end of the phone, making it a great option for lefties. But nowhere is there a setting to flip only the panel. Adding insult to injury is a night-clock function displays the time PERFECTLY RIGHT-SIDE UP.
Summary
While the Edge is basically a Note 4, it is also significantly more expensive — $399.99 with a two-year contract from AT&T, $945.99 without. You'll pay for that panel.
Samsung isn't giving up on the curved-screen concept, and that's good. A future edition of the Samsung Galaxy S6 will have curves on both screens, for instance. But for now, the curve remains a luxury, not a necessity.
Power users who crave efficiency and customization will appreciate the Edge, which has more functionality and capability than a similarly priced iPhone 6 Plus. But casual users will be better off with the just as powerful yet less expensive Note 4. While the Edge's panel offers some amazing advantages, none of them advance to a game-changing level.
Hadsall writes for The Joplin (Mo.) Globe.