Six Search and Rescue teams visit former Penn Power building
Six Search and Rescue dogs found what they were looking for in the former Penn Power building on Kennedy Square.
Six Search and Rescue dogs found what they were looking for in the former Penn Power building on Kennedy Square.
And had a lot of fun doing it.
The dogs and their owners are part of Pennsylvania Volunteers, a Butler County-based, nonprofit organization whose 45 members come from Butler, Beaver, Mercer and Lawrence counties and are trained volunteers who may be called upon to provide services in the event of disasters. The organization includes six K-9 Search and Rescue teams and two drone units.
"It has to be a game," Scott Ross said at Saturday's training exercise. "As long as it's fun, the dogs are willing."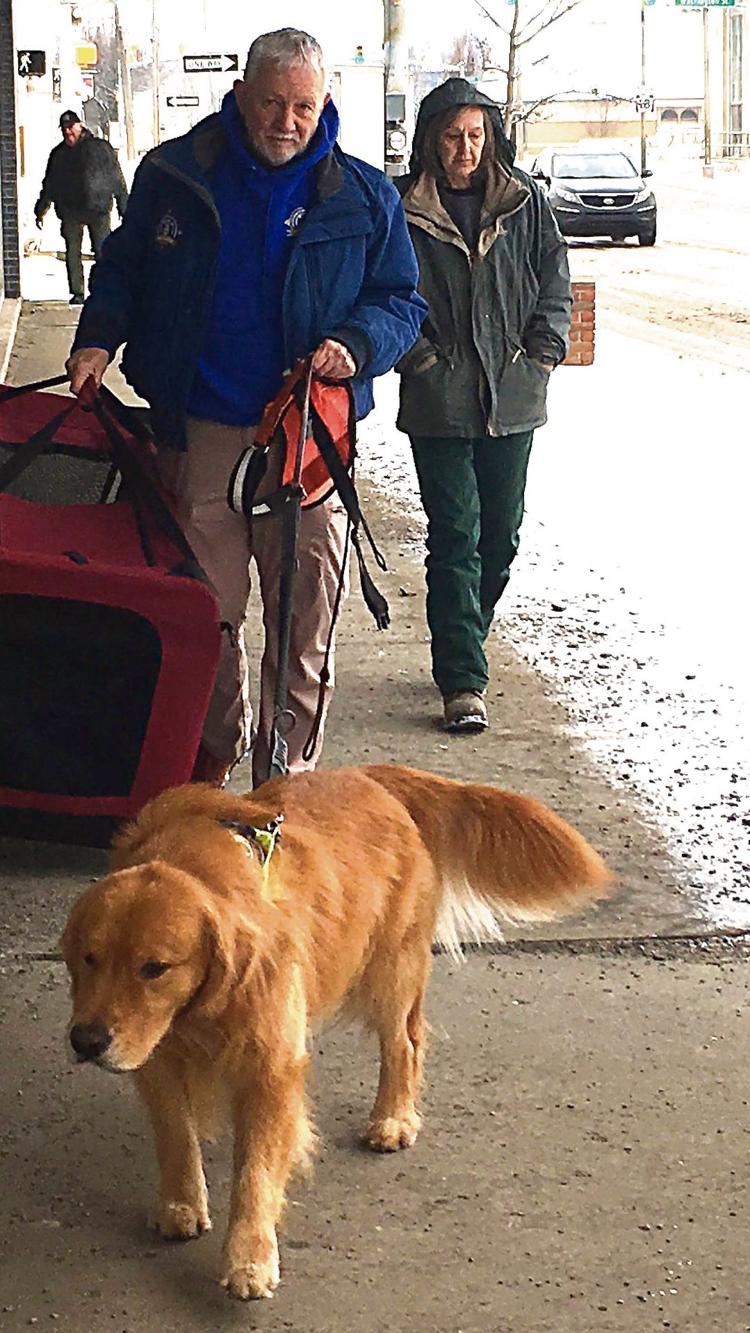 Each dog got two turns to roam the empty halls and offices of the building, which has no heat or electricity and has been vacant since 1993.
Ross' dog, Fozzie, got an additional turn. Fozzie is receiving special training in human remains detection to become a cadaver dog. So at the end of the morning he got to go tracking some special "dead" scents.
The dogs are all certified search and rescue animals trained to find missing people.
Sunny, a 4-year-old AKA champion golden retriever, owned by Dr. John Osheka who heads the Search and Rescue training, and 5-year-old Jaxon, a golden retriever called an English Cream due to his white coloring, and owned by Yvonne McAvoy, are trained as air scent dogs and in narcotics detection. Both also are badge-carrying members of the Butler County Sheriff's Department K-9 unit.
"The sheriff's department has not yet been called upon to do a search but we have a trained unit in place and ready if that day comes," Osheka said.
Air scent dogs draw scent that comes from people and lingers in the air. They are trained to find people missing in the wilderness , generally hunting in fields and large areas where the person has been missing for a long time or there is no trail.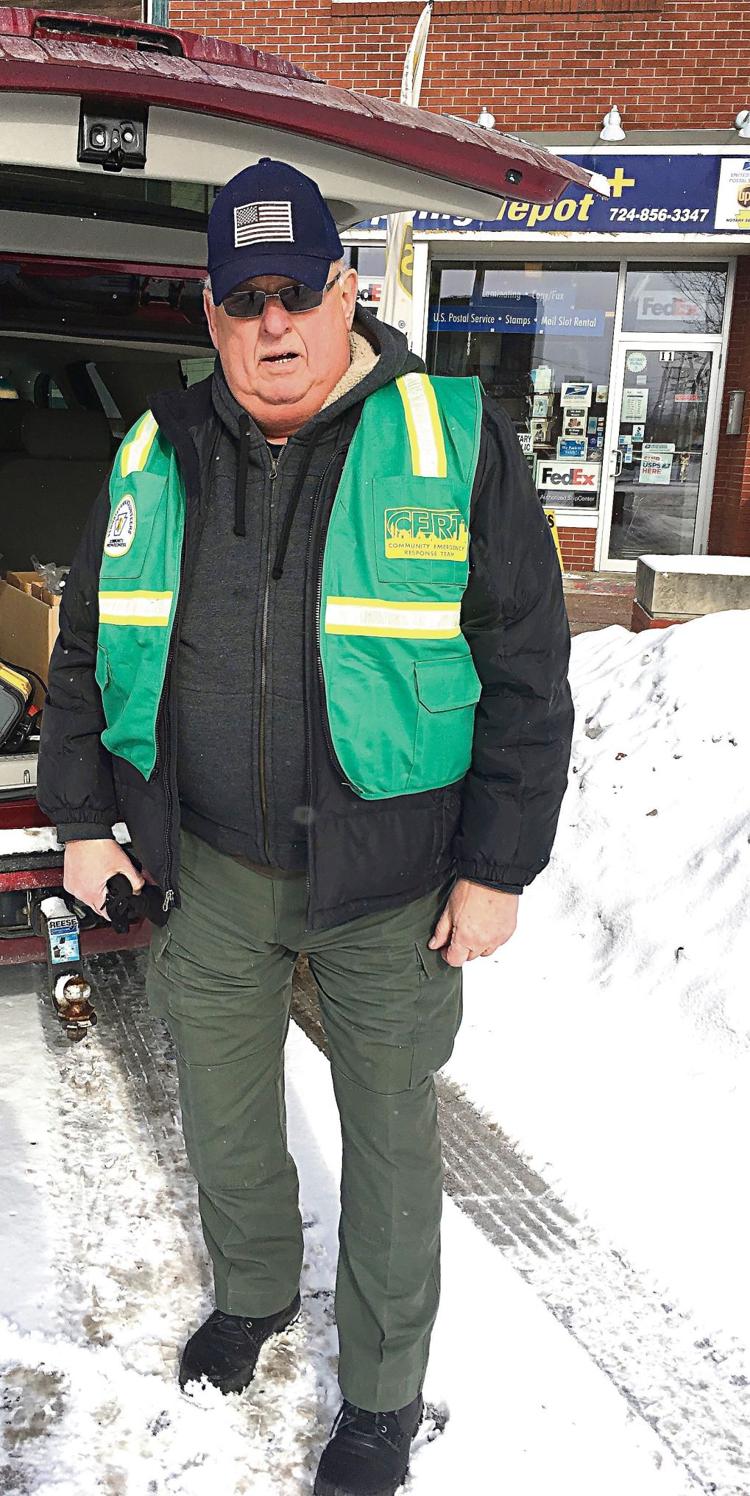 The other dogs are "trail scent" dogs who smell an item owned by the missing person and follow the path that person most likely took.
Others participating on Saturday are Fozzie, Ross's golden retriever; Winston, a golden retriever owned by Linda McCrillis, Marley an American Labrador retriever owned by Ginny Novak and Charley, a Golden Doodle owned by Lisa Hyatt.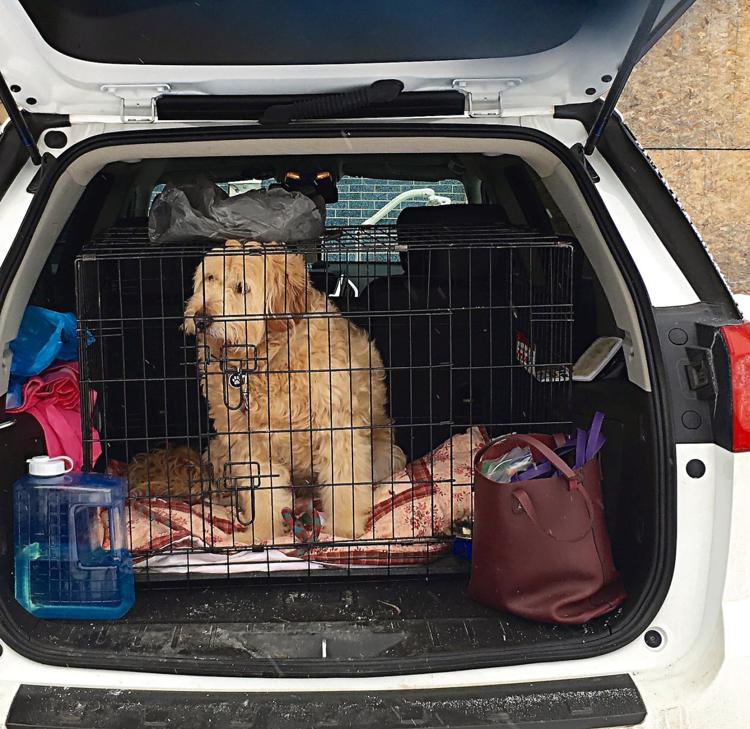 When "on duty," the dogs wear vests identifying each one as a search and rescue team member. Sunny and Jaxon's vests include bells so owners can hear where the dog might be and so individuals needing help hear that someone is coming.
"Those bells are the sound of hope," Hyatt said. The owners noted that golden retrievers are generally perceived as friendlier dogs that German shepherds. who are often in these kind of units.
"A child or an elderly person with Alzheimer's disease who is lost might be afraid of a big dog," Osheka said. "These dogs are less startling."
Osheka retired 13 years ago as superintendent of the New Brighton School District.
"I needed to find something to do," he said."I started training dogs."
He noted that he has trained several dogs and has worked with the University of Pittsburgh medical center on training dogs to detect several forms of cancer in patients.
"Sunny is the best dog I've ever trained," he said,
All of the dogs are certified through the American Mantrailing, Police & Working Dog Association. Certification takes 12 to 18 months, and recertification is done every two years. But dogs and owners stay in practice with daily training sessions and weekend practices such as the search of the Penn Power building.
Sunny and Jaxon are also certified as therapy dogs and Osheka is encouraging the others to get that certification also.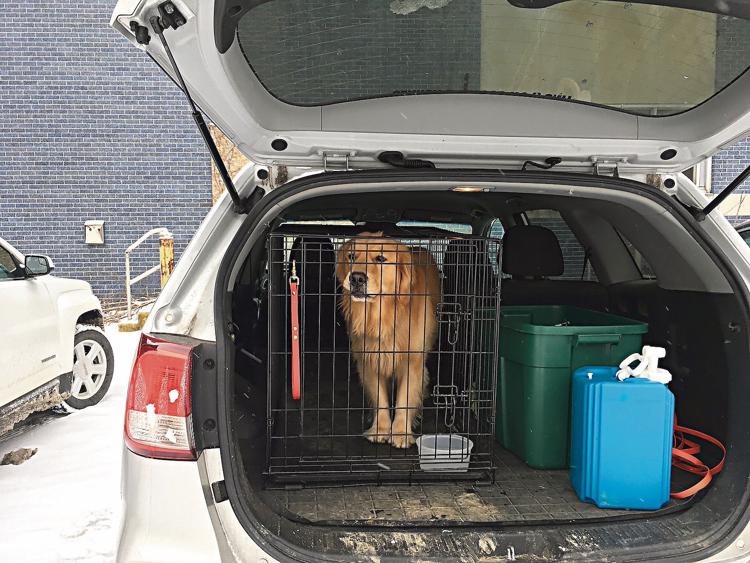 On Saturday, the dogs followed the scent of Nancy Natale, a New Castle native and friend and co-worker of Hyatt. She hid in rooms, closets and among the city's Christmas decorations, which are stored in the front room of the vacant building. She was found every time, as was Osheka, who also hid to give the dogs a workout. Seeking Natale, Jaxon was "excited but confused" when he located News photographer/videographer Pete Sirianni, also on the scene.
"I am glad to be back in this building," Natale said. "My parents both worked for Penn Power. My dad was head of the payroll department for many years. I haven't been in this building in years."
Pennsylvania Volunteer member Ed Newcaster arranged with building owner Paul Lynch to use the three-story, 42,000-square-foot structure. He said there was concern that unexpected finds might be made.
"With the building vacant for so long, we wondered if any homeless people might be found hiding," he said.
No surprise people were located.
The biggest surprise of the morning was found in the basement. Hyatt and her sister, McAvo, ventured down the steps to see if that area might be used to hunt. Hyatt, who carried a flashlight went first — stepping from the bottom stop into about two feet of ice-cold standing water.
"It was dark," she said. "But it looked like a solid, smooth surface. I was sure I saw swirls like you see on concrete surfaces."
This was the first indoor experience for the dogs who generally work outside.
The dogs' owners said they appreciated the building since outside temperatures were in single digits when they arrived and climbed only to 17 degrees by lunchtime.
"Otherwise we'd be outside going through fields," Osheka said, adding, "The dogs wouldn't have minded. It's special to see them working a field. But we feel the cold."
"This is good for the dogs who might one day be called to find someone who is lost or hiding in a building, or to find someone if a building collapses."
Osheka pronounced the morning session a success, noting that each dog did as trained — entering rooms, searching perimeters and locating its quarry each time.
Pennsylvania Volunteers members are trained to support first responders. They may be called also provides disaster support services including six K-9 units and two drone teams,
"Our motto is Eyes in the air and Paws on the ground," he said.
Wilson said when possible drones are flown along with the dogs on practice events when the dogs are training outside.
The volunteers meet at 6 p.m. on the second Monday of each month at the Lyndora American Legion Post 778.