A disparity over a boundary line dividing Lawrence and Butler counties could be resolved soon, possibly as early as this week.
Questions about the Lawrence/Butler county boundary line location in Plain Grove and Worth townships arose two years ago when Love's Travel Shop and Country Stores proposed to build a service plaza at the intersection of Route 108 and Interstate 79.
The property straddled and Lawrence and Butler county line. The company faced a problem when it went to get permits for the project and discovered differences of opinion between the two counties as to where the actual boundaries lies.
A Crawford County judge, selected from a non-bordering county for neutrality, is expected to hand down an order this week, approving or disapproving the long work of three surveyors who took their jobs seriously and apparently figured out where the original property line was located.
Judge John F. Spataro had ordered both counties to select a surveyor, and a third surveyor was chosen by each of those two surveyors to comprise a three-member panel, explained county Solicitor Thomas W. Leslie. The third surveyor, Michael Brinkash of Ashland, Pennsylvania, who wrote a book on just that subject of how to figure out property lines, took the lead in the investigation into the real boundary.
Now, two years and 250 pages of maps and documents later, Spataro  is expected to rule on their findings of where the official boundary line lies between the two counties and affected municipalities.
The county commissioners approved a fund-transfer Tuesday to pay for part of the county's share of the work, noting it was an unanticipated expense that was taken from the commissioners contingency fund. 
County administrator James Gagliano said the county's total share is $75,000, which is half of the cost to both counties. 
He said that after the payment, the contingency fund has only $50,000 left.
"This was a little precedent-setting," commented Commissioner Steve Craig about the case to determine the property line.
Leslie explained that the three surveyors were diligent in their work.
"They divided it up," he said,explaining that surveyor John Smoker, hired by Lawrence County, researched documents in Lawrence County's prothonotary's office; David Widmer of Beaver Falls, hired by Butler County, researched records in Butler County and Brinkash went to Harrisburg to find the original survey and other paperwork. 
"The intent was to find the original boundary line as it was laid out by the engineers that did the original surveys," Leslie said. Originally, the land straddled Beaver, Mercer and Butler counties until Lawrence County was created in 1849.
"They did an amazing job of finding the the markers that no one had seen in awhile," he said of the surveyors, adding that they had to dig down to find one marker that was buried.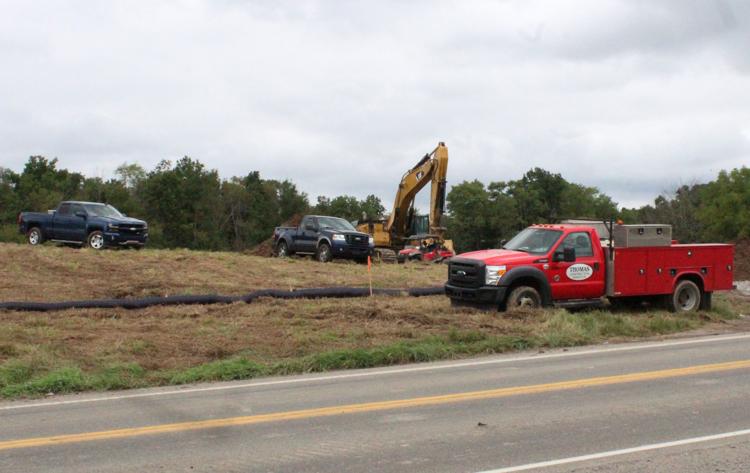 Another marker, which is under where a garage stands now, was impossible to find so a marker was placed nearby with the exact measurements to where the original one is located, he said. 
The surveyors found places where the two lines were 1,000 yards apart and PennDOT's surveys were no help, Leslie  said. 
Two public meetings were conducted, one in Butler County in the Slippery Rock Township municipal building, and one in Scott Township at the firehall on Route 108.
Leslie said the results would change both the Lawrence and Butler county lines, because they have overlapped each other. He added that part of the land in Lawrence County comes to a point that is in line with part of a corner of Venango County.
"There weren't any places where they were lining up originally, but it is a straight line now," he said.
The results will have an effect on property owners where the line is in a different place. In some instances, some people may not be living in the same county, Leslie said.