Key to the City
StarBound entertainment founder and owner Toni McKay received a Key to the City on Light-Up Night from New Castle Mayor Anthony Mastrangelo.
McKay's New Castle company is a creator and provider of giant helium balloons for parades and celebrations across the nation and around the world. Last week, she provided a balloon celebrating the city's status as Fireworks Capital of America as well as a few giant Christmas ornaments for the Light-Up Parade downtown.
Mastrangelo presented the honor in a pre-parade ceremony on Kennedy Square, during which he also lit the city's Christmas tree.
Pension fund grows
At the November meeting of the Lawrence County Pension Board,, Michael Shone, managing director, and Sarah Wilson, vice president of Marquette Associates, investment consultants to the county retirement fund, reported that the fund had an investment gain of $2.2 million (3.1 percent) for the third quarter of 2017.
For the first three months of 2017, the fund returned 11 percent, gaining $7.6 million. Since February 2014, when Marquette Associates (formerly Peirce Park Group) were hired, the fund has gained $16.8 million, as of Sept. 30, 2017, and ranked in the top 20 percent of InvestorForce Public Defined Benefit Plans.
Marquette also reported that the pension fund is very well funded. They also commented that the board has taken several very positive steps to secure the long-term strength of the plan.
Holiday tunes
Christmas music filled the air with piano music as the students of Norma Henry played for the residents of Rhodes Estates.
Playing piano solos were: Thomas Demko, Shawn Redmen, Alex Pindell, Nadine Buckley, Sam David, Erika Wagner, Macey Miller, Casey Nesbitt, Riley Miller, Zacrey Ligerakis, Justis Pacifico and LaAna Hasson. Callie Baker and Nadine Buckley played violin solos.
Christmas vespers
The Westminster College Christmas Vespers service will be at 4 p.m. Sunday in Orr Auditorium.
The annual worship service of lessons and carols is open to the public, and all are welcome to attend.
The service includes familiar Christmas music performed by Westminster choral and instrumental ensembles, lighting of the advent candles, scripture readings and a message delivered by the Rev. James R. Mohr II, Westminster College chaplain. This year's message is entitled "Expectant Waiting." Senior students have the honor of sharing the readings and prayers during the service.
The Westminster Cable Network will telecast the Christmas Vespers service live on cable television over Armstrong Channel 72 in New Wilmington, Chanel 204 in Grove City and Comcast Channel 183 in New Castle. The service will also appear live online at WCNLive.com, and will be archived for on-demand viewing at https://vimeo.com/wcn247/videos.
Following the service, the Chapel Staff will host a cookie reception and time of fellowship in Orr Lobby.
For more information contact Westminster's Chapel Office at (724) 946-7117 or chapel@westminster.edu.
Ugly sweaters
Erme's Distributing and Miller Lite will host their first Ugly Sweater Bar Crawl in New Castle.
Participants are invited to break otu their "ugliest" and most festive Christmas attire on Dec. 16 for an evening full of fun, giveaways and refreshments. Advance tickets are $10 and $15 day of event. Ticket purchase will include a free T-shirt, transportation, various specials and a chance to win a Miller Lite ugly sweater at each bar. Tickets are available for purchase at Starwood Rib & Steakhouse, Turf Bar and Cedars Bar.
"Thanks to Erme's distributer and Miller lite for bringing this fun event to New Castle, along with Beth Anne Kudelko for coordinating the entire evening," said Abdou Saada, owner of Elham's Middle Eastern Restaurant. "With my help and the help of bars involved, we will make it a memorable day for you and your friends. All money raised will be donated to Shop With A Cop. We hope to make the ugly bar crawl a yearly event."
The crawl will begin at Elhams Middle Eastern Restaurant and Bar with registration starting at 3 p.m. and the crawl officially kicking off at 4 p.m.. Participating bars include: Elhams Middle Eastern Restaurant and Bar, Turf Bar, New Castle's Slovak Club, Mary's Middle Eastern Restaurant, Friends Bar & Grill, Starwood Rib & Steakhouse, Twenty Six Bar & Grill, Pagley's Pasta & More, Cedars Bar, Steel City Sports Bar & Grille.
Following the crawl, Elham's will be hosting the ugly sweater after-party starting at 10 p.m. with DJ FM. For more information visit https://www.facebook.com/events/199969120548584/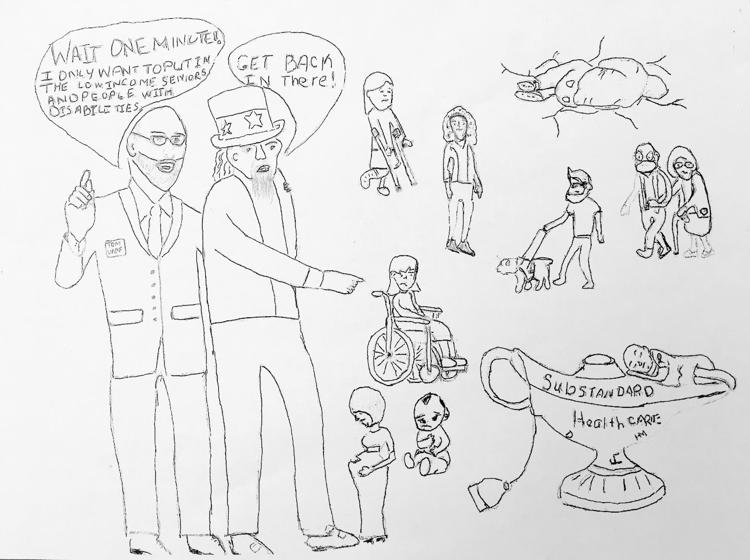 Drawing attention
Healthcare issues matter to Linda Costal of New Castle. She opted for a unique way of sharing some of her thoughts with The News.
She drew a cartoon, which accompanies today's County Clips.
"I think it's easier to make hard point this way than by writing and slamming someone," she said.
Costal said this is just her second attempt at drawing a cartoon, but both efforts have focused on healthcare.
"I just want to make people think about the choices they are making with their healthcare," she said. "I'm a person with a disability, so healthcare is very important to me."